Hurst Pantomime Group
---
Next Production — January 2017
Our next production will be in January 2017 and auditions will be held early September 2016.
You are invited to the 'planning meeting' at the Castle Inn Monday 1st February 2016 at 8pm.
We would love to see new faces as well as old (and really do need a lot of support and involvement to make it happen) so if you know of anyone who might be interested in being involved please let them know.
The meeting is open to anyone and everyone who is interested.
---
In January 2013 we returned to the pantomime classic, Cinderella. Utilising the latest technologies the production included a video wall and state-of-the-art "toblerones" to create an immersive theatrical experience for our delighted audiences.
---
In January 2013 we staged Peter Pan. Using innovative techniques and the magic of theatre, our audiences were flown to Neverland.
---
Our fifth production was performed in January 2011. Yet another very successful panto performed by the Hurst Pantomime Group.
---
Our 2009 show was Jack and the Beanstalk. Four full houses with delighted audiences helped make this another superb success for the Hurst Pantomime Group.
---
Aladdin — January 2007
Our production of Aladdin took place in January 2007 and was judged a complete success by all those involved in making it happen.
All the hard work of the cast and crew was rewarded with full houses for each of the four performances.
---
Our second production in January 2005, Snow White was a tremendous success, with four sell-out performances which were enjoyed by all of our audiences. Building on our experience with Cinderella in 2003, the Village Hall was once again transformed into a wonderful theatre where all the fun, laughter, song and dance of the pantomime came to life again.
The weeks of rehearsals, planning & design paid off and we were all very proud of what we had achieved with very limited resources, bags of enthusiasm and a lot of hard work.
---
It all started with our first production, Cinderella.
---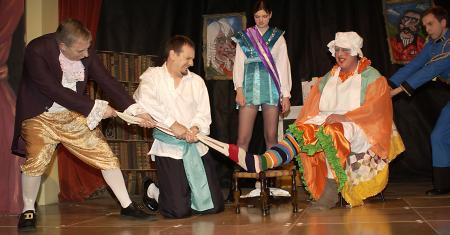 ---