Hurst Pantomime Group
---
Box Office
Now open!

PLEASE NOTE TICKETS ARE NON-REFUNDABLE UNDER ALL CIRCUMSTANCES - EVEN DUE TO BAD WEATHER THE SHOW WILL GO AHEAD!

Details ...
Traffic Warning
Please be aware that there are temporary traffic lights all week in the centre of Twyford which may cause severe congestion.

If your route to the pantomime would normally go through Twyford then please allow plenty of extra time for your journey or avoid central Twyford altogether.
Performances
Thursday 15th January, 7:30pm
Friday 16th January, 7:30pm
Saturday 17th January, 2:00pm
Saturday 17th January, 7:30pm
---
In January 2013 we staged Peter Pan. Using innovative techniques and the magic of theatre, our audiences were flown to Neverland.
---
Our fifth production was performed in January 2011. Yet another very successful panto performed by the Hurst Pantomime Group.
---
Our 2009 show was Jack and the Beanstalk. Four full houses with delighted audiences helped make this another superb success for the Hurst Pantomime Group.
---
Aladdin — January 2007
Our production of Aladdin took place in January 2007 and was judged a complete success by all those involved in making it happen.
All the hard work of the cast and crew was rewarded with full houses for each of the four performances.
---
Our second production in January 2005, Snow White was a tremendous success, with four sell-out performances which were enjoyed by all of our audiences. Building on our experience with Cinderella in 2003, the Village Hall was once again transformed into a wonderful theatre where all the fun, laughter, song and dance of the pantomime came to life again.
The weeks of rehearsals, planning & design paid off and we were all very proud of what we had achieved with very limited resources, bags of enthusiasm and a lot of hard work.
---
It all started with our first production, Cinderella.
---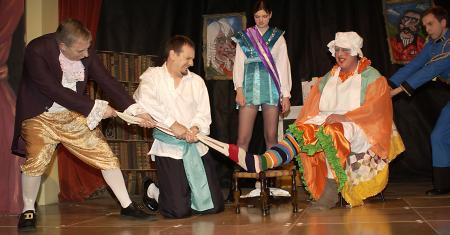 ---