Hurst Pantomime Group
THANK-YOU to everyone who helped make the 2013 production of Peter Pan a huge success. Audience, cast, production team, musicians, back-stage, front of house, box office, costumes, props, hair, make-up, chaperones, technicians, set builders, and everyone else - thank-you!
---
Our fifth production was performed in January 2011. Yet another very successful panto performed by the Hurst Pantomime Group.
---
Our 2009 show was Jack and the Beanstalk. Four full houses with delighted audiences helped make this another superb success for the Hurst Pantomime Group.
---
Aladdin — January 2007
Our production of Aladdin took place in January 2007 and was judged a complete success by all those involved in making it happen.
All the hard work of the cast and crew was rewarded with full houses for each of the four performances.
---
Our second production in January 2005, Snow White was a tremendous success, with four sell-out performances which were enjoyed by all of our audiences. Building on our experience with Cinderella in 2003, the Village Hall was once again transformed into a wonderful theatre where all the fun, laughter, song and dance of the pantomime came to life again.
The weeks of rehearsals, planning & design paid off and we were all very proud of what we had achieved with very limited resources, bags of enthusiasm and a lot of hard work.
---
It all started with our first production, Cinderella.
---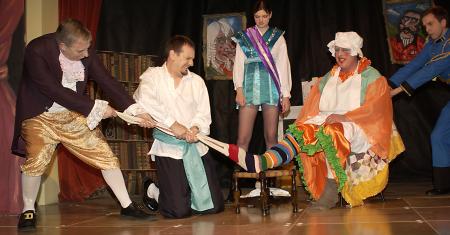 ---