Hurst Pantomime Group
Our next production will be on 15th, 16th & 17th January 2015, and auditions will be held early September 2014.
If you want to be involved in one of the most successful and fun pantomime groups in the area, then keep an eye on this website for more details nearer the time. If you live in, or are connected with Hurst, please come and join us!
Key Dates
Initial meeting, adult registration and script read through
Monday 8th September,

7:30pm - 10:00pm

(St.Nicholas School Hall)
Adult and Youth (school year 9+) Auditions
Friday 12th September,

7:30pm - 10:00pm

(Village Hall)
Children's Chorus (school year 4+) Registration and Auditions
Sunday 14th September,

1:00pm - 3:00pm

(Village Hall)
Performances
Thursday 15th January 2015, 7:30pm
Friday 16th, 7:30pm
Saturday 17th, 2:00pm and 7:30pm
Rehearsals for youth and adults will be on Friday evenings and some Sunday afternoons. Most children's rehearsals will be on Sunday afternoons from 1-3pm.
Those wishing to be considered for the main cast and adult chorus must be able to commit to being available for rehearsals every Friday from 7:30pm - 10:00pm commencing Friday 19th September and most Sunday afternoons from September 19th. They will also be required for dress rehearsals on Tuesday 13th and Wednesday 14th January.
Children will need to be available every Sunday 1.00pm - 3:00pm from 19th September and also for the dress rehearsals.
All participants must live in, or be connected with Hurst.
---
In January 2013 we staged Peter Pan. Using innovative techniques and the magic of theatre, our audiences were flown to Neverland.
---
Our fifth production was performed in January 2011. Yet another very successful panto performed by the Hurst Pantomime Group.
---
Our 2009 show was Jack and the Beanstalk. Four full houses with delighted audiences helped make this another superb success for the Hurst Pantomime Group.
---
Aladdin — January 2007
Our production of Aladdin took place in January 2007 and was judged a complete success by all those involved in making it happen.
All the hard work of the cast and crew was rewarded with full houses for each of the four performances.
---
Our second production in January 2005, Snow White was a tremendous success, with four sell-out performances which were enjoyed by all of our audiences. Building on our experience with Cinderella in 2003, the Village Hall was once again transformed into a wonderful theatre where all the fun, laughter, song and dance of the pantomime came to life again.
The weeks of rehearsals, planning & design paid off and we were all very proud of what we had achieved with very limited resources, bags of enthusiasm and a lot of hard work.
---
It all started with our first production, Cinderella.
---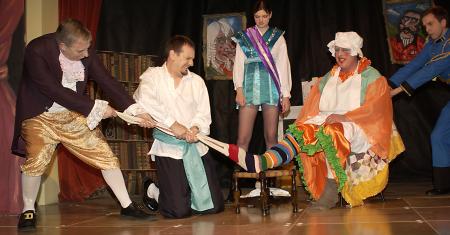 ---